We launched the new portal of technical support which supports the following new functions:
The articles of Knowledge base will be translated in Russian and English
Now the priority for development of new functions will depend on users' votes! Register, leave your requests and vote for the useful functions you need. The portal will be filled with the data we already have within the following few weeks.
All currently important topics will be transferred to the new forum. You will be able to continue discussion using the convenient interface where you can add images, files and video.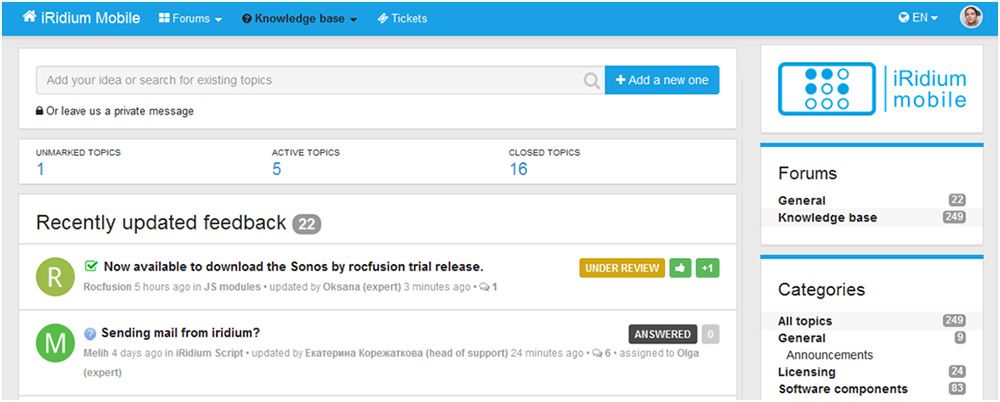 You can leave your comment or request via the interface directly on the web site without registering again
You can see all your comments and download attachments to them.
When asking questions on the public forum you help other users to find useful information. And at the same time you can get help about the problems you have.
Examples created by the iRidium mobile team and integrators are available for download from the special forum section.
Convenient search in Knowledge base can help to find useful advice or recommendations.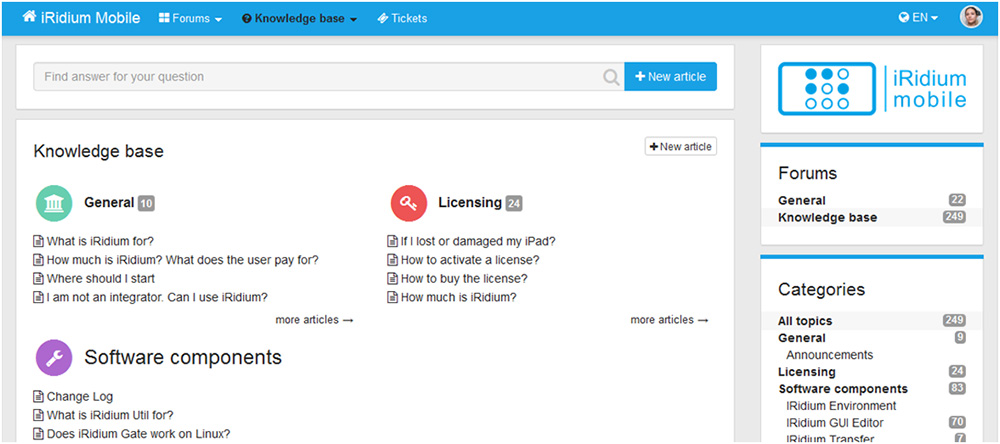 To start work on the new portal:
1. If you used iRidium support:
Go to http://support.iridiummobile.net and sign in with the help of «Forgot your password» with your e-mail, which you used for contacting the support team before, as a login. You will receive a new password for your User profile with all your previous requests.
2. If you are a new user:
Select an e-mail you want to use for signing in and create a new account on http://support.iridiummobile.net
or add a new question on the web site http://www.iridiummobile.ru/support/#tab3 and your account will be created automatically. It will be created for the e-mail you used for registering on the iRidium mobile web site.
You can access the information resources in the Support section of the iRidium Mobile website: http://www.iridiummobile.ru/support
You can also contact the support team at: support@iridiummobile.ru At that an account is created on the portal. You can access your account any time using your e-mail as a login (it should be received with the help of «Forgot your password»).