Internet of Things is rapidly gaining a momentum in the world of modern technologies and innovations. Specialists are constantly discussing ways to make it work with maximum efficiency. In the nearest future, experts say, IoT will produce massive amounts of data and open limitless possibilities for various fields of activity.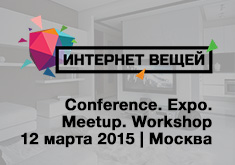 Thus, aiming to discuss prospects and possibilities than an intellectual ecosystem on the Russian market can provide, on March 12, 2015, Moscow will host Russia's first industrial event – INTERNET OF THINGS. The conference will be visited by the most influential experts and industry leaders for discussions of trends and developments of modern technologies, prospects and market of IOT.
The representative of iRidium mobile Nikolay Rusanov will also speak at the event with on the subject «Smart Home and IOT: transformation of the existing automation concept» (March 12, 2015, 16.00).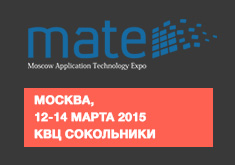 The conference will be held as part of III International exhibition MATE 2015 (Mobile Application & Technology Expo) which will take place March 12-14, 2015 in Moscow Exhibition center «Sokolniki». iRidium mobile will present its iRidium and Bongo products on stand В-11.
The iRidium mobile team has always aimed for creating the universal software project which could enable users to control their environment from mobile devices they use in their everyday life.
Even now owners of the houses with iRidium can control all functions of their Smart Homes from one app installed on their smart phones and tablets, no matter what operating system they use.
And due to the built-in modules for controlling various equipment iRidium has approached the implementation of the Internet of Things idea. iRidium users can answer intercom calls, watch video from security cameras, etc. from their phones.
The new Bongo project is being developed within the iRidium mobile company, oriented on the В2В automation market. It is a universal platform for organizing surrounding things in one smart environment aimed for the В2С market. The platform will allow any user (not an automation professional) to set up control of his environment disregarding of where he is at the moment (at home, in the office or in the car) and the equipment he is surrounded with. And then control this environment from any control panel (favorite mobile device). Bongo can scan the environment and form the interface for controlling it automatically.