Multifunctional hall (capacity: 720 persons) for meetings, conferences and exhibitions, ordered by Federal State Budget Institution "South-western Federal Medical Research Center", is located in block 2 of Medical Rehabilitation Center№ 2 of Federal State Budget Institution "Federal Center of Heart, Blood and Endocrinology named after V.A. Almazov", Saint Petersburg, 2, Akkuratov Street.

Customer's Task
When the task for this project was set to our partner, CENTEC company, the customer insisted that only state-of-art solutions and technologies be used. As a result numerous hi-tech solutions were realized and a special application for iOS devices was developed on the basis of iRidium software package – ConSys mobile.
Offered Solution
The idea CENTEC company came up with was to give all conference participants a capability to listen to synchronized translation and take part in voting on the raised questions from their own mobile devices based on iOS. The following realization was offered. Participants of events, when entering the hall, get a QR-code and scan it from their iPhones or iPads. The link in the QR-code leads to downloading ConSys mobile app from the App Store. In this app participants choose a language translation to which a participant wants to listen to, and listens to it right from the app and vote on the raised questions. Traditional realization of these functions requires special equipment for each participant and wiring to each place.
Realized Technologies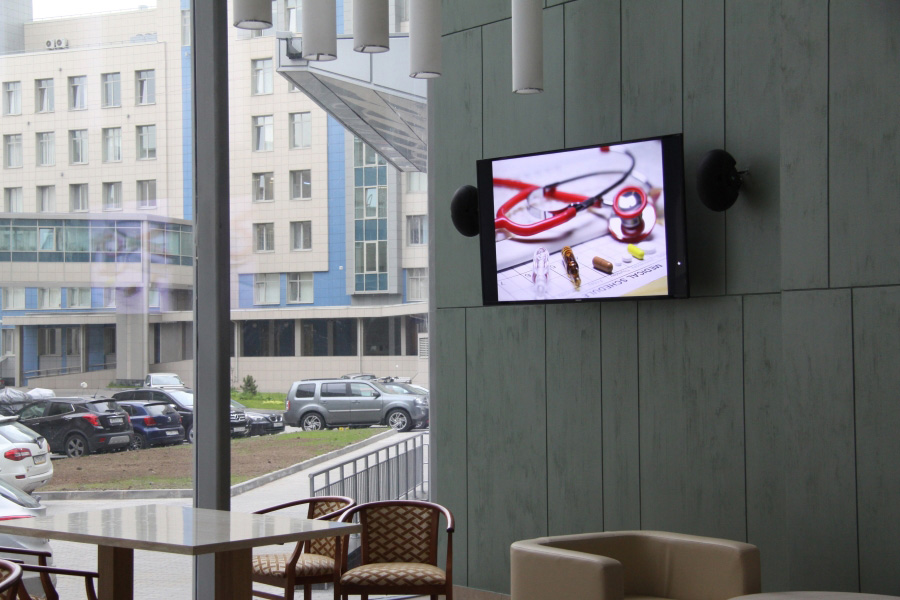 1. System of videoconference and technological television
It's done on the basis of Polycom HDX 8000 together with РТZ Full НD ЕаglеЕyе 1080 camera and 4 MicroDigital cameras of technological television. It enables to have multipoint conferences, broadcast on-line contents to any displays, including monitors of synchronists (6 pieces). For high quality speech broadcast congress system microphones were used.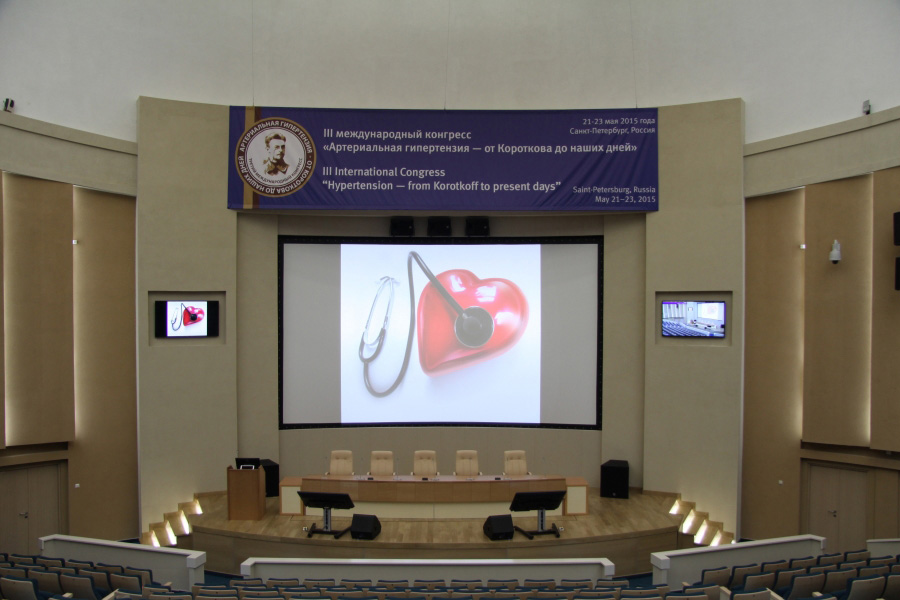 2. System of collective display
The basic display system of the hall is radial projection screen (8х4,5 м) with multimedia Full HD Barco projector НDХ W20 (26 000 ANSI). Additional 65" Samsung ЕD65С monitors display additional information about during a conference. For seats on the balcony there are 65" Samsung ЕD65С monitors. There are additional Samsung ЕD46С monitors on the stage for those on the stage to view the current contents. Multi-window display mode is provided by two TV One processors: one of them provides general needs during video broadcasts, the other one collects and outputs video signals from telemedicine devices. Besides there are 8 Samsung ЕD65С monitors and multimedia Full HD Еiki ЕIР-НDТ30 (7 000 ANSI) projector in the hall on the first floor and in the gallery on the second floor. They are united in a single complex of the monitors of the hall. They can display entertaining contents for café visitors or ay other video source of the hall, depending on the current tasks.
All Samsung monitors are united into a single Digital Signage net with MagicInfo softwate that enables to set flexibly broadcast program of each display with schedules and different work modes. The basis of the switching and video distribution system is DVI digital matrix 16х16 switch by Kramer. When the project was put in operation all inputs/outputs are 100% busy. There are hidden MDA115 connection holes with HDMI interface, RJ45 and a socket on the table on stage (3pcs.) and in the speaker's stand for convenient connection of laptops. To view and edit video contents the speaker's stand is equipped with Dell 22" touchscreen monitor, connected to Extron Annotator graphical processor, that can add notes and computer graphics to the video. The complex also includes a multi-channel server to record/play audio/video streams with a capability of web-broadcast.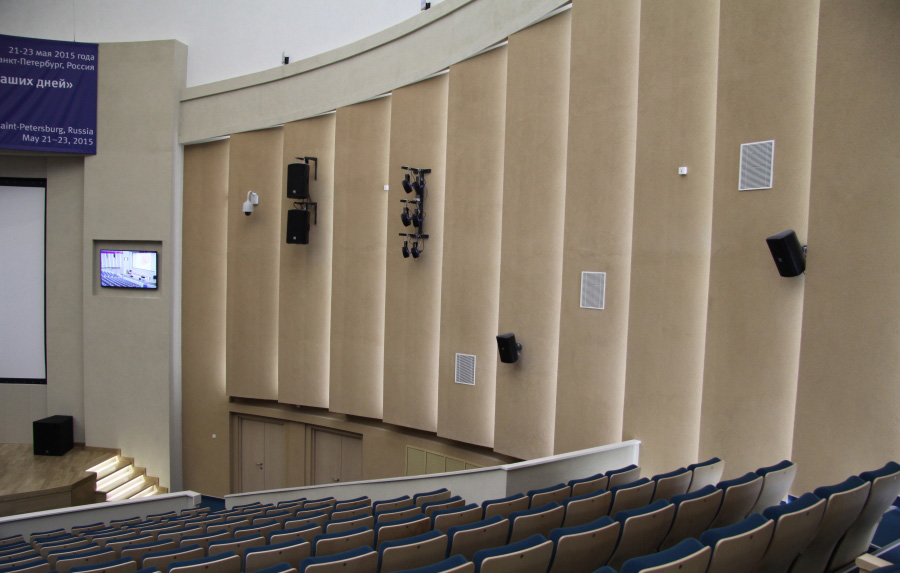 3. Sound reinforcement and reproduction
The sound complex of the hall is done on the basis of ElectroVoice equipment, that consists of the central EV Sх 300 Е cluster, L/R EV Zх5-60В + Zх5-90В broadband systems, ЕV F-2151D-ВLК subwoofers, EV Zх1i-100 (14 pcs.) acoustic surrounding system, EV ТХ1152FМ stage monitors. Audio is commuted and mixed with the help of DSP N8000 central matrix switch. Control is done with the help of Аllеn Неаth QU-16 audio mixer. ElectroVoice ЕVID4.2Т acoustic systems are used in the halls, café and gallery. Two ElectroVoice RЕ2-N7 wireless microphones are used for participants speaking from their seats. Thus, complete sound complex that can reproduce any audio contents with good sound quality in different modes of the hall work: from minor conferences to concerts and film shows. Then the hall was designed, special attention was paid to the geometry of the walls and the ceiling and acoustic qualities of decoration materials. Specialists of the company did required acoustic measures and calculations, selected suitable materials by Ecophon brand. Thanks to the well-done work, the hall has articulated broadband sound at any volume level.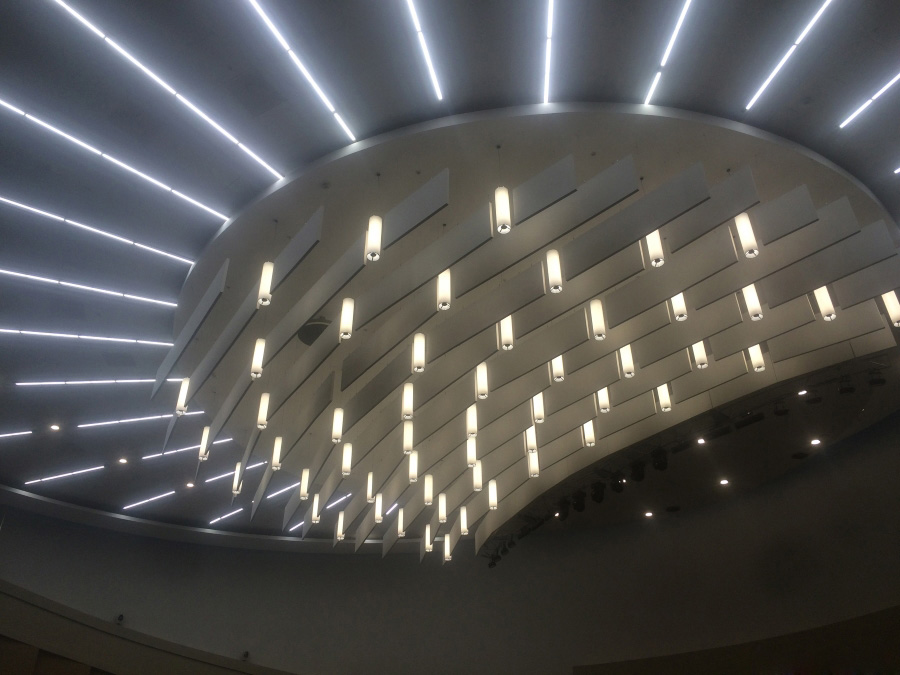 4. General and stage lighting
On the stage of development of the architect project, special attention was paid to ceilings and lighting system. As the hall is multifunctional, 2 systems of lighting were required: general lighting and stage lighting. The difficulty was that the height of the suspended ceiling is 14 m, thus lighting has to be maintained from above. As a result, only diode technology was selected. Special mounting hardware was designed that enable easy maintaining of all ceiling lights. The stage light consists of three clusters: central light and 2 additional lights mounted to the right and to the left of the stage. SGМ РILОТ 3000 controller was selected to control all stage light via DMX protocol. For comfortable and flexible control of general lighting, a cabinet was made on the basis of Beckhoff equipment and specialized software complex. As a result all lighting groups of the hall and neighboring halls are controlled from the center with a capability of flexible dimming and forming light walls.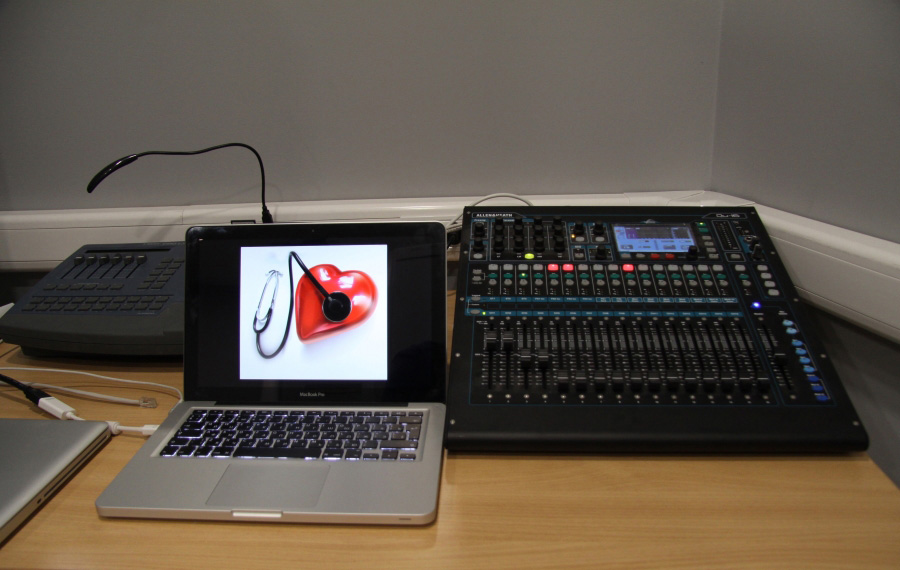 5. Congress System, LAN, synchronized interpretation, voting
A unique hardware-software complex was developed for the project, consisting of Bosch DСN digital congress system for 8 microphones on the stage, 6 working places for synchronists, system of synchronized interpretation and voting. It was developed for mobile devices based on iOS together with iRidium mobile company. The unique feature of the solution is that instead of traditional IR and/or wired devices for synchronized interpretation and voting, personal iOS devices of conference participants (BYOD concept) as well devices brought in advance are used. To solve the task a powerful WiFi net was made on the basis of Cisco equipment, including Сisсо Саtаlyst switches (2pcs), Сisсо 5508 Sеriеs АIR-СТ5508-25-К9 wireless controller, wireless access points with external antenas (15 pcs.), Cisco software. The WiFi net provides stable on-line broadcast of 3 channels of synchronized interpretation and collection of voting results. A specialized app is ready and placed in the AppStore, when the app is launched, a conference participant is authorized with the help of scanning a QR-code on the participant's badge containing unique data. Later on, depending on the participant's status, he is given access to the function of choosing the language for synchronized interpretation or to all functions, including participation in voting. Several AMX controllers are responsible for authorization, collecting, processing and displaying voting results. Voting is done on the basis questions and ready answers that are prepared and input in the system in advance, but they can be formed on the spot during a conference or training. When voting starts, the questions and possible answers are shown on monitors, displays and mobile devices of authorized participants. Voting is timed each time individually by an operator. When an answer is chosen and confirmed, each participant gets a confirmation that his vote is accepted. Voting results are formed and shown on monitors, displays in a table form.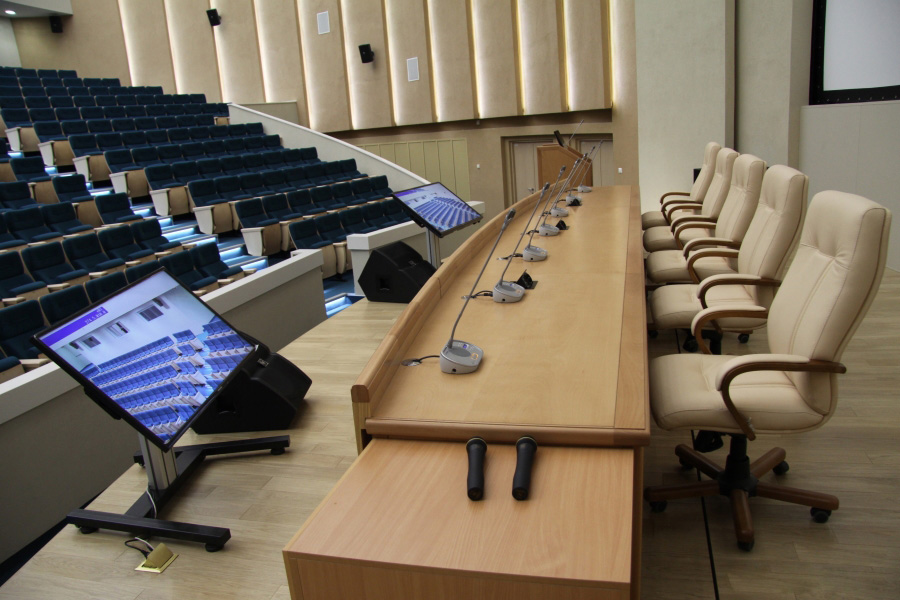 6. Stage mechanics
As there is no place to store the stage table, but the stage has to be cleared fast, a special mechanism of stage transformation was developed. As a result the stage table for 7 persons that weighs more than 250 kg of special construction is firmly fixed on a lifting/overturning platform. The table is remotely turned upside down and closes the technological niche in the stage with its foundation. Thus, it takes only 2-3 minutes to transform the stage for performances by one person only.
Difficulties in project realization
Taking into account complicated hall equipment and customers' strict requirements of fast control of the whole complex, the integrated control was done on the basis of AMX equipment. Developed software modules enable to control equipment manually, and to form presets that are most frequently used, for one type of equipment and for the whole complex as well. During testing a conclusion was reached to have 2 control panels for the operator: АМХ МХТ-1000 control panel located in the operator's room and an app for iPad to control the hall by one of the operators of the chairperson of the conference from any place of the hall.
Capability to develop the project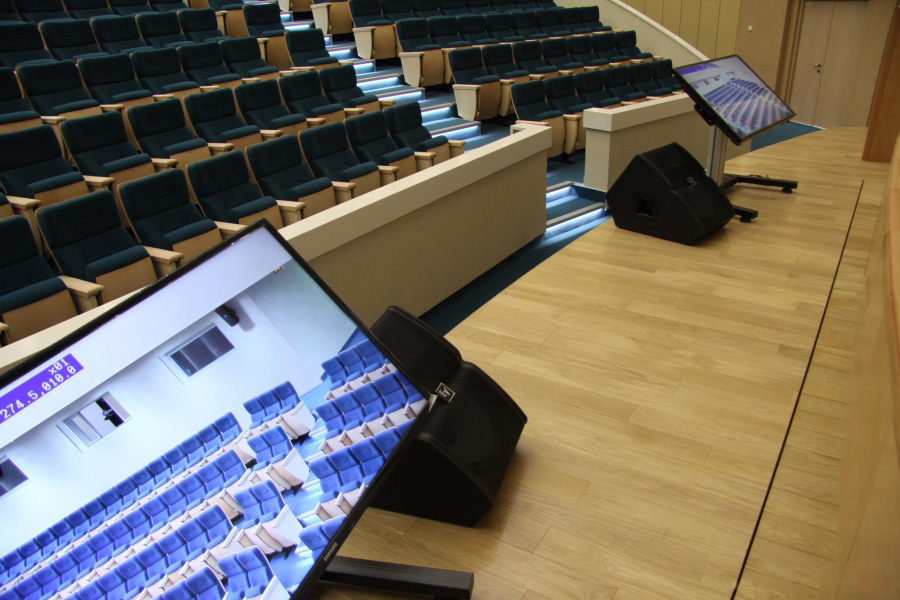 Thanks to the open platform built on digital audio and video matrixes, freely-programmed controllers and use of modern IT technologies including the ones for mobile devices, the complex has unlimited capabilities for further development. Even at present remote participation in the conferences are possible with capabilities to listen to synchronized interpretation and vote, what is impossible in traditional interpretation and voting systems.
This project shows very successfully, that iRidium is a multi-functional software complex!
If have some idea about new iRidium use, share it with us and together we'll find a solution!

P.S. If you want to learn about the project in detail and ask questions on integration, choice of equipement, etc, pre-register for the Joint webinar "iRidium + CENTEC".  As soon as a group gathers, we'll organize an on-line meeting with CENTEC CEO, Aksexey Tsiryulnikov, and iRidium representative, Nikolay Rusanov, and you'll get all the answers you want from the most competent source. Register here.
iRidium mobile