Review by Nikolay Rusanov, development director at iRidium mobile
On April 12 iRidium mobile officially announced the release of iRidium pro — a set of tools for installers/ system integrators, as well as a complete automation platform. The software package can be used as the basis for any project of "smart" or "intellectual" building, home or commercial AV integration and many others.
In the modern epoch of IoT the features that matter are multi-platform, ready solutions, free programming – they are exactly what iRidium pro makes emphasis on.
I took part in beta-test of iRidium pro several months. Now I'm working with a final version. In this article I'd like to shoe the basic differences from iRidium 2.x and new features that I came across when passing from iRidium 2.x to iRidium 3.0.
I'm often asked, "Why «new»?" "Why «platform»?" iRidium seems to be well-known and has been used on the market for several years. The point is that iRidium was just a tool to create graphical interfaces. And as such it was used on the final stage of project creation, when control from tablets/smart phones had to be added to the installed system. This function remains, but now iRidium pro can be used as the foundation of an automation project, that is, to realize logics, automation and a user's interface within iRidium platform. And the remaining equipment selected in agreement with it.
---
Project Update via Cloud
It's convenient to use the cloud to upload projects onto control panels. The configured project is uploaded to My Account and an invitation to download or update a project is sent to the end-user's e-mail. A customer clicks a link and downloads a project on his mobile device or updates it.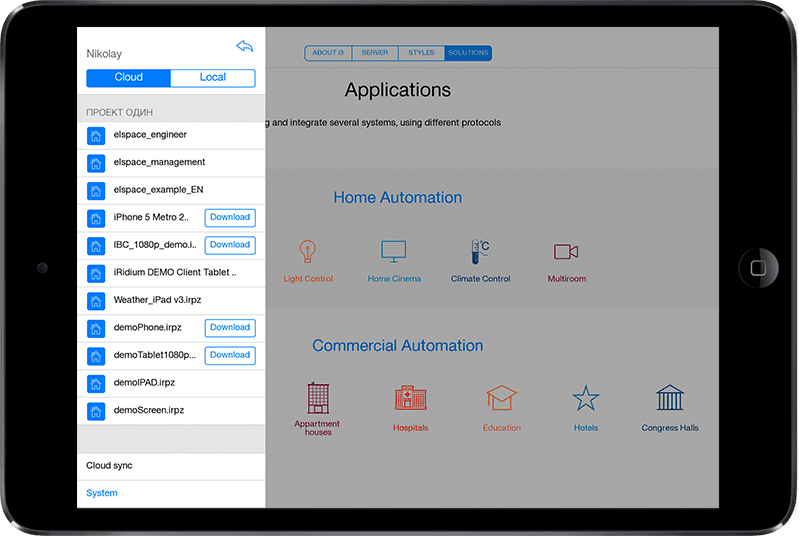 The author has access to all his projects in the side menu of the client app. Now you can have several downloaded projects and show all of them to your customers.
Panel/Server projects
Now when you create a control project you can have it running only on a control panel, as it was possible before, or create an additional server project to it.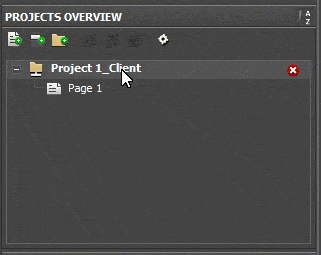 This approach has a number of advantages:
iRidium server is on 24/7, it monitors everything that happens in the systems
when connecting to the server, we get statuses from channels/sensors/meters at once. This process takes much longer in systems without a controller that is always connected
you can create rules and logics, including math calculations in a server project
more about iRidium Server
For example, I don't have an automation controller at home (and no wish to buy it either). Buy I would like to get trends of temperature, lighting, electricity consumption and to speed up the process of getting device statuses when a smart phone is connected to the system. I'd also like to create several schedules, simple rules, but there was no place to store it. Several days ago right after release of iRidium pro I launched iRidium Server for Windows on Intel Compute Stick, that is always connected to my TV-set. As a result, I can use all automation functions without buying an additional controller. It is of course more reasonable to use for this purpose a specialized controller or a server working 24/7, for example, a file server /a media server/a video surveillance server.
In general, the idea is that you can choose yourself a device that can fulfill automation functions. And you choice is defined by the type of automation object that you have. iRidium Server runs on Windows and Linux operation systems, x86, x64 and ARM platforms.
The centralized approach has a disadvantage. Any problem with a controller, turns into a problem for the whole system. iRidium Server is made maximally reliable, but even the most reliable things can sometimes malfunction. To minimize the consequences of a possible malfunction, use a second back-up controller or switch automatically to direct control, if connection is lost. Several hardware controllers have a function of automatic restart in case of freezing.
Client App and Licensing Policy
Those who worked in iRidium 2.x know that an installer had to get a trial license to make a project. The trial license had to be assigned to HWID of a control panel. Such a license had to be received even for Emulation mode in the editor.
It's much simpler now. When you launch the app for the first time, you enter login/password of your account on www.iridiummobile.net. Client apps work in the fully functional mode from 5 to 20 minutes, depending on the user's status. There is also a 60-day trial period.
You can get commercial and trial licenses in your account. The new system allowed to get rid of activation assigned to the HWID of a controller. That's why now you can use a license for several control panels for any automation system. 5 basic tariffs differ in the number of supported panels:
Starter: 1 panel

Basic

: 5 panels
Advanced: 10 panels

Enterprise

: 25 panels

Enterprise+

: 50 panels
In any tariff addition panels can be bought.
Use of iRidium Server is included into the licenses. The server is limited by the number of data points (1 data point – 1 control channel + 1 feedback channel):
Starter

: 50 data points

Basic

: 250 data points

Advanced

: 1000 data points

Enterprise

: 2500 data points

Enterprise+

: 60000 data points
You can calculate the price of a license in the calculate in My account section of the web-site.
Logics Editor
The first release includes a limited version of this function, it will be developed further. Earlier to describe any logic interaction you had to go to javascript section and write a code. Now you create a scheme by dragging required blocks of the working area, join them with each other and assign to driver variables. An example of such a scheme is below.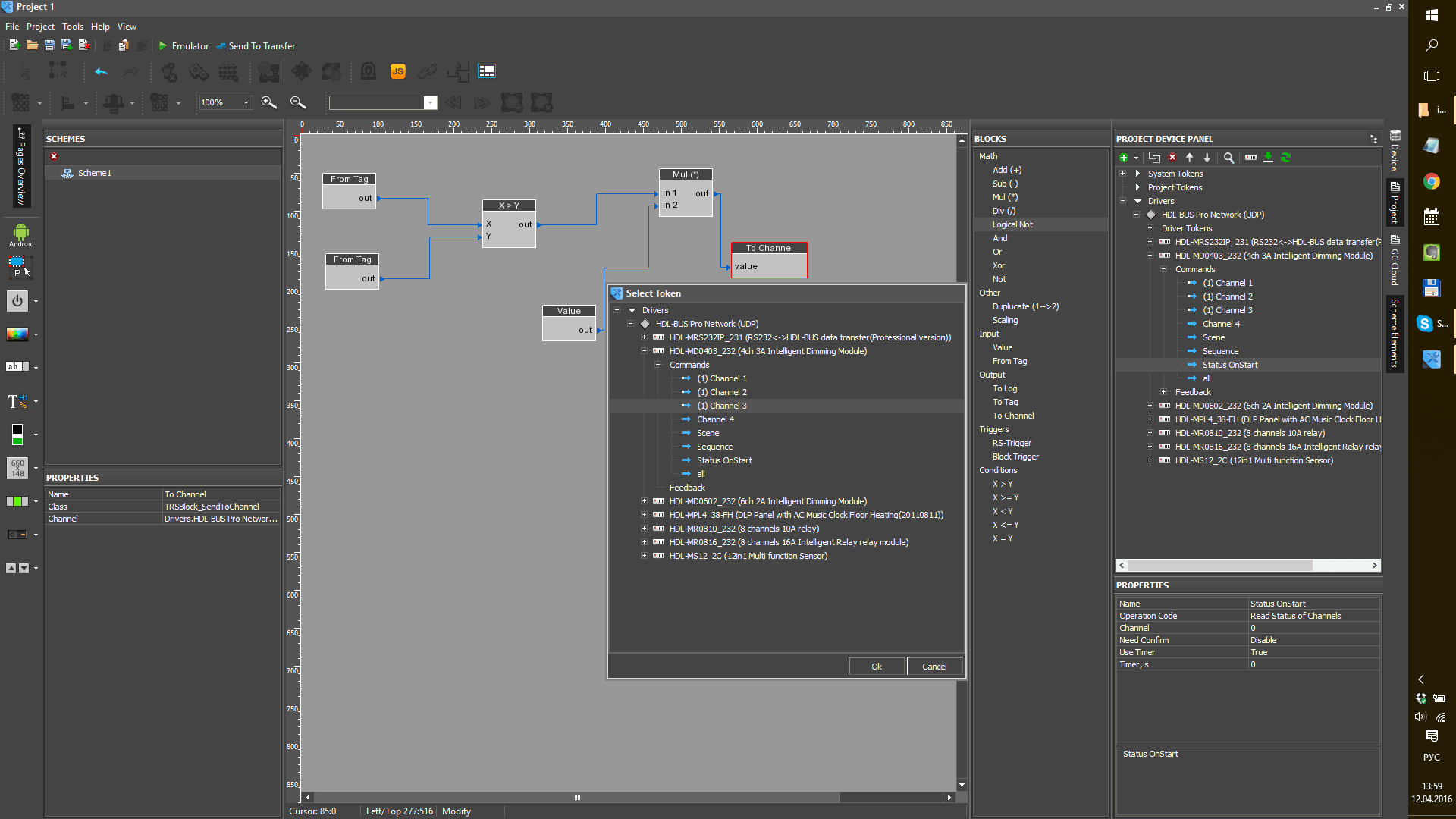 X and Y are feedback values of a driver, for example, temperature and preset value. If X>Y, on the exit from the logical block we get 1, if X
Gallery Additions and Fonts/icons
A typical problem for any project to find a "house" icon, a "lamp" icon, an "arrow" icon in a single style. The Gallery in the new versions has a lot of icons in iOS style that used to be parts of commercial designs.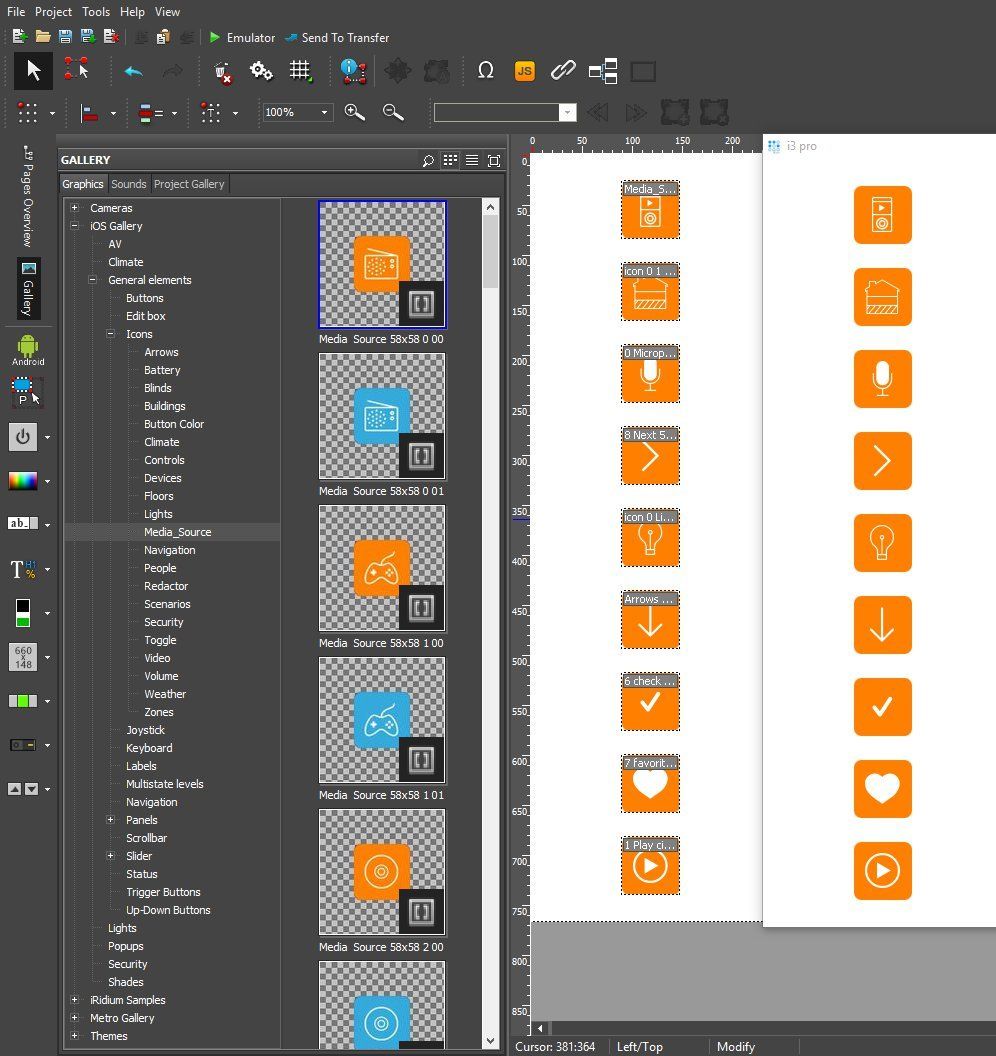 One more pleasant feature is a set of symbol fonts, where letters and figures mean a certain image. You can copy and item, change a letter in the Text field and get all required icons. Another convenient feature of work with fonts is that change of color, size and other font parameters leads to corresponding changes in the image.

Now pop-ups can be simply made in the required place
It's much more convenient than getting it in the required place by changing margins on the top and on the left (though this variant remains).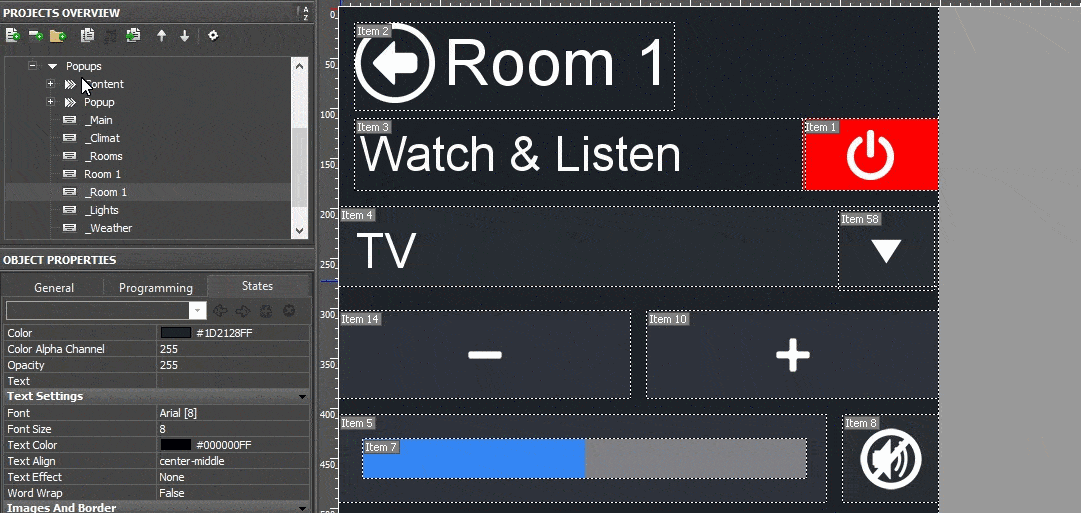 Web control
Starting with this versions iRidium function can be controlled via the web-interface. An example of this control can be seen the Server web-panel.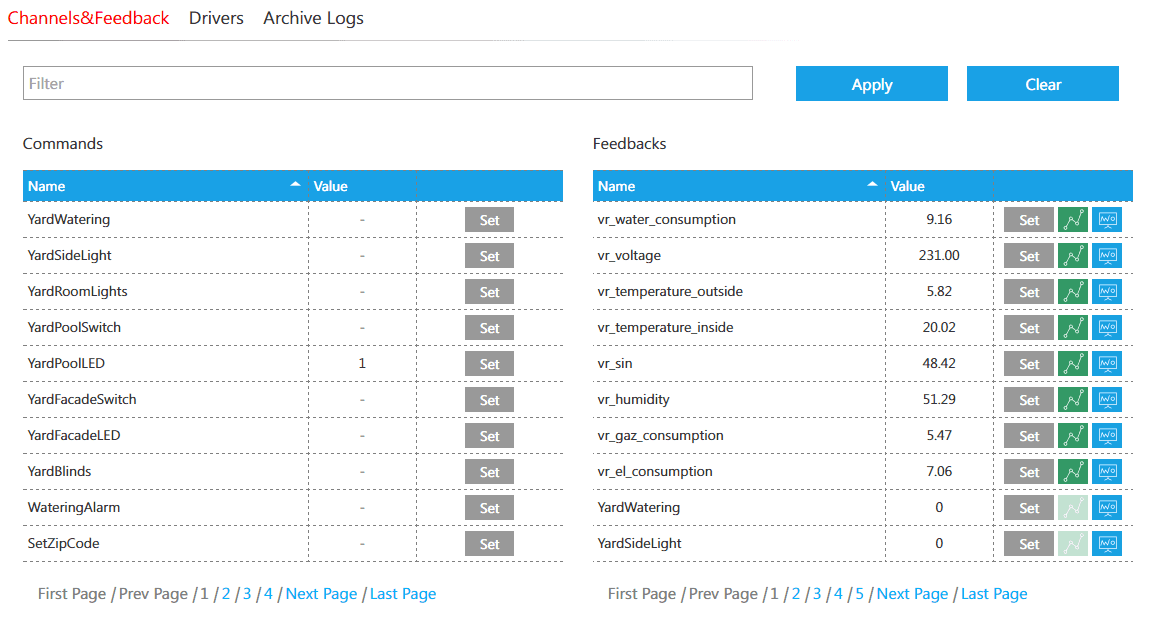 You can figure out how it works by studying the new iRidium REST API.
Trends, charts and data bases
Now you can monitor value changes and generate trends in the web format or in the app and record changes in the data base.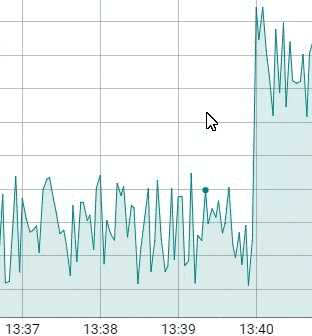 You can also use the new iRidium DB.API.
Improved SIP and SIP Video functions
SIP sound quality is greatly improves. More coders and systems are supported. SIP Video function can be easily realized, you can communicate with video by using the built-in camera of a mobile device. And it does not matter what version of iRidium app you use for Windows, Android or iOS, there will be connection.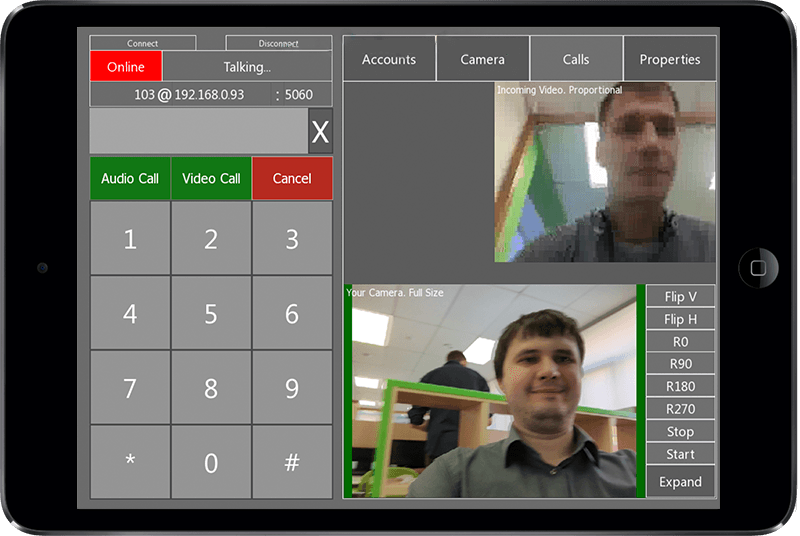 This function can help you to realize video surveillance via the built-in camera of a gadget or video baby monitor, if required.
Demo project «Virtual Smart Home»

Thanks to iRidium Server there is a capability to use virtual addresses. This function was realized in the demo project that shows end-users how to control Smart home from a PC or a tablet/a smart phone
Initially the project was made for demonstration at exhibitions. Now it is available for integrators. The project and the installation manual is here
Неre is a video from ISE 2016 that shows the demo interface at work
SSL2, OAuth, voice control, etc.
iRidium pro supports new ways of authorization and secure connection. It allows to communicate with cloud and web services, which was impossible before. Connection with Nest, Gmail, Google.API, Yandex.API and other services is realized by several developers.
An example of voice control via Google and Yandex (A Link to iRidium Forum)
These are the basic changes, that are seen at first sight. There are many others that I don't want to repeat the documentation. So let me make a conclusion.
Several updates and additional function are under development now. They will come out this year. New products iRidium lite and iRidium Store are tested on the basis of this platform, I'll write about them in a separate article a bit later.