1 Month Left to Take Part in iRidium Awards 2019!
We continue to accept projects for iRidium Awards 2019 competition with iPhone ХS as the Grand Prix.
We accept projects in 3 nominations: "Commercail automation", "Home automation" и "Special solutions".
How to take part?
make a 3-minute video of your project with iRidium and upload it on YouTube;
fill-in an application form on our web-site till March 1, 2019.
The Grand Prix is iPhone ХS and a credit of 500 USD for iRidium products. Winners in each nomination get prizes as well.
Learn more about the terms and prizes on our web-site.
iRidium mobile at ISE 2019
On February 5-8 iRidium mobile takes part in ISE 2019. Traditionally we show all our major developments at ISE expo and this time is no exception. We'll be glad to see you at our stand 9-F120 to tell you about new things and answer your questions.
An important event of the trade show is expected to be our daily 20-minute sessions at KNX Association stand where we'll speak on the following topics:
KNX + iRidium: examples of real projects with KNX and iRidium;
KNX server from iRidium mobile;
voiсe control of KNX installations via Amazon Alexa;
how to create KNX visualization for a definite customer;
control of KNX installation with and without a central server;
total off-line: how to use iRidium solutions without cloud connections;
how to integrate KNX with dozens of other automation systems, A/V equipment and IoT gadgets in one project.
Time of sessions will be announced a bit later. Follow our news.
Place: stand of KNX Association, 9-F120.
You can visit the expo for free, if you enter our invitation code 246588 during registration.
On-line Course "Basics of work in iRidium pro" Starts on February 4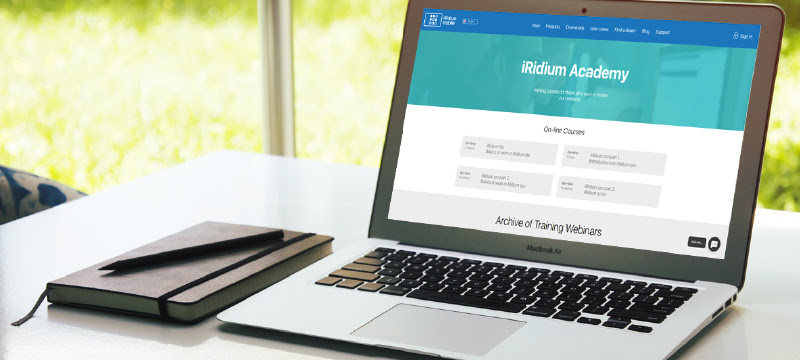 Plan your trainings beforehand! The first on-line group of the "Basics of work in iRidium pro" course with a trainer guidance starts on February 4. Hurry up to book a place!
During the course you:
learn only required material in the correct order;
select the time and place for studying;
have a trainer available for consultations and questions;
get bonuses after successful certification.
You can read more and register for the course at the link below.
iRidium Supports Urmet Intercom System

We are glad to inform you that iRidium is compatible with one more intercom brand – Urmet, Italian company with 80-year experience in developing building communication and security systems. i3 pro and i3 lite panels can be connected to Urmet 1039 IPerVoice intercom system with the help of Urmet Home Gateway 1071/2.
As a result, your customers can use their mobile devices to:
make audio and video calls to other IPerVoice panels,
answer calls,
open intercom doors remotely.
Learn more at the link below.
iRidium pro. Updates in iRidium BYOD
We continue to improve iRidium BYOD to make it more convenient to work with. We hope that you'll appreciate two new features!
– Now you can set the lifetime of a license since the moment a QR-code is scanned. It's a convenient solution for meeting rooms that are booked for a short time. Set the lifetime of a license, for example, 2 hours and access to equipment control will end in 2 hours after a QR-code is scanned. If a meeting lasts longer, scan the QR-code one more time and you'll have access to equipment again.
– Projects are more convenient to administer thanks to the system of storing parameters in the «cloud». For example, you can use one project for a group of typical rooms sending in the QR-code required distinctive parameters such as, controller IP-address, group addresses, etc. These parameters are encrypted and can't be seen if scanned by a third-party QR-scanner.
iRidium server Works with Z-Wave ZME-UZB1 USB-Stick
Now Z-Wave is available in iRidium server without third-party gates.
It's enough to connect Z-Wave ZME-UZB1 USB-stick (tested by Z-Wave.me) to iRidium server RPi or a Windows PC with installed iRidium server and interact with Z-Wave network directly.
Lear more at the link below.
Updated Module for Yahoo Weather

We'd like to remind you that an updated module Yahoo Weather is available for download. We corrected all malfunction connected with changes in the API of the weather informer. Together with a module you'll download a manual on authorization at Yahoo Weather web-site, required for the correct work of the module.
Google Home Can Be Added to a Project Without iRidium Gate!
Good news for fans of a voice assistant from Google. Now support of Google Home in iRidium pro is realized as a regular driver, that can be added to any license in the calculator in My account. iRidium server on the basis of any recommended hardware platform is required for Google Home work. More about setting at the link below.
iRidium lite. iRidium lite Supports Astro Timers
Now you can create schedules and routines with regard to sunrise and sunset. And constant internet access is not required. iRidium lite calculates everything on the basis of time and date of a mobile device. iRidium server is required in the project.